News from the world of the Rubik's Cube




Rubik's Twist
This puzzle - one more creation of professor Rubika, and not less popular than Rubik's Cube. The snake is made of 24 identical triangles which have connection among themselves. The simple mechanism of connection allows to rotate triangles among themselves in such a manner that the Swan or the Bat, either the Ball, or the Dog as a result can turn out, or.. Yes anything you like. Here there are no true and incorrect answers - all depends on your imagination!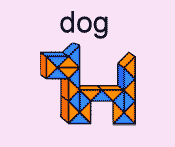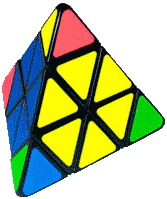 Mechanical puzzle with 4-мя the sides of different color. The purpose - to collect all elements of one color on one side. The pyramid represents a geometrical body a tetrahedron. As well as Rubik's Cube, it consists of elements which at turn of sides can mix from a side on a side, only the role of cubes is carried out here with small tetrahedrons from which the big tetrahedron is combined. It is the version of Rubik's Cube, for assembly other algorithms be required, in fact moving of game elements - 14 small analogues of a pyramid occurs around of the axes located under the attitude to each other not under a right angle, as at Rubik's Cube.
The pyramid
Novelty 2007! At you on five elements from 1 up to 5 each of 4 colors - red, yellow, green and dark blue. It is enough to take out " key " the element and triangles can move among themselves. Three games in one: the problem to collect this or that pattern from one or several colors (1-st level of complexity), or the same, but also to arrange figures under the order (2-nd level of complexity), or (3-rd level of complexity and it is really complex!) to collect 12 color plates; so that in everyone there were all of 5 figures!

Rubik's Brain Racker
Globe Rubika is a puzzle with the same mechanism, that at and Rubik's Cube 2х2. Difference in the form of the puzzle. Together with logic and spatial imagination, the toy acquaints with continents of our planet. Owing to a convenient support, the Globe always will be on the place.
Rubik's World